Just a few minutes' boat ride from the beach resort are the beautiful Pandan Islands. A tropical paradise with corals and protected sea turtles. It is an unforgettable experience to swim and snorkel with the "Turtles" together in complete peace and serenity in the sea.
Half-Day Cave Tour: Hike to one of the upstream, jungle-covered mountains with highly interesting vegetation and subsequent caving.
Day trip: At the foot of a 2000-meter-high mountain area in the middle of the rainforest, lies the idyllic lake, surrounded by colourful water lilies and countless exotic aquatic plants.
But the way to the lake is an adventure: you pass a unique, huge, one-of-a-kind penitentiary in which the prisoners take care of themselves.
San Augustin, Djungle Tour
The tour can be individually planned, according to your wishes.
3 Day Tour: The Tamaraw Buffalo on Mont Iglit. Along a wonderfully beautiful river valley next to a huge suspension bridge in the middle of an immensely impressive jungle landscape, it goes to Camp 1 and Camp 2, then to the buffaloes. The tremendous views of the surrounding mountains and the landscape with views all the way to the South China Sea inspires.
A paradise for snorkeling is the northern, about 2.5 km far out in the South China Sea located Pandan Island. Snorkeling and scuba-diving along the pandan coast, made entirely of coral, is an experience that will never leave you. Other destinations: Apo Reef, Shipwreck Coron.
It is a pleasure to ride a kayak through the waves that roll from the South China Sea to the beautiful sandy beach in front of Gustav's Place.
Day 1 - Non-Dangerous Kayaking Adventure: With one of the typical local outrigger boats (Bangka), it's 20 kilometres north from Sablayan along Mindoro's west coast and then 8 miles on a turquoise river - the Barahan River - inland to a picnic spot. There are grills and cold drinks. Then comfortable paddling in the widely ramified, wildly romantic rivers.
3-day tour: The Banaue rice terraces are a UNESCO World Heritage Site! The journey goes over Angeles, Mt. Pinatubo over the Dalton pass to Banaue (about 7h), hotel accommodation, drive in the sturdy jeepney to Hapao, on an adventurous road through grandiose landscapes! Continue to the Bangaan Village with its terrific postcard motifs.
3-day tour: Tagatay-Taal Lake volcano, Hamilo Coast - Pico de Loro, Pagsanjan waterfall and rafting through the gorge. Sightseeing Filming locations "Apocalypse Now".
Tour: Mt. Pinatubo & 100 Islands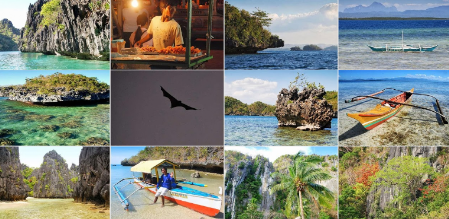 3-day tour: Via Bacolor (visit of the half sunken church). Drive to Angeles (possibility of a sightseeing flight) to the starting camp Mt. Pinatubo, hike along spectacular volcanic landscapes and natural wonders, drive on 100 Islands, overnight at the hotel directly on the beach, 100 Island Tour: A natural monument, unique on earth!