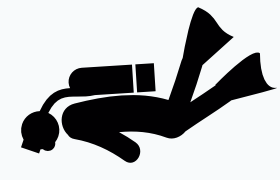 Gustav's Place Diving Resort
Please note: Diving season
2023/24 starts
on 10/13/2023. We look forward to your request!
Our own dive centre offers organised dive and snorkel trips of one to several days with our own dive boat. We are specialised in scuba diving trips to the world-famous Apo Reef, the world's second largest reef and one of the ten most interesting reefs in the world. Gustav's Place is also the nearest dive centre to about 2.5 km away dive paradise Pandan coral islands in the South China Sea with its great sea turtles.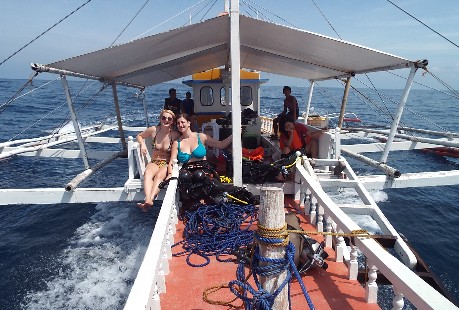 With our diving boat we take you to the most beautiful diving spots
State-of-the-art diving equipment for up to 20 divers.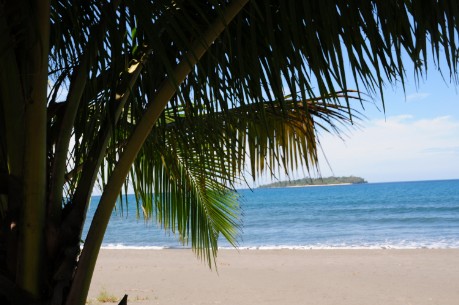 Only 20' away by boat is Pandan Island with impressive reefs.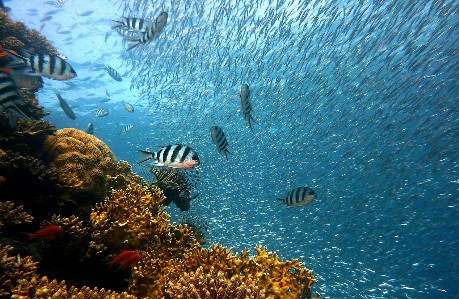 The world famous reef is home to unique fish, sharks and rays.
SECOND LARGEST REEF IN THE WORLD!
Apo Reef is the largest coral reef in the Philippines! It spreads over an area of 34 square kilometres, making it the second largest connecting coral reef in the world. The clear blue waters of the channel are teeming with 285 species of colourful marine life, including tropical aquarium fish, snappers and the crevice-dwelling moray. It is one best dive spots in the world, attracting hordes of divers all the year round. The soft white sand and patches of fine corals, clearly visible through the crystal blue waters, is truly an entrancing sight to behold!
Apo Reef is a coral reef system situated in the western waters of Occidental Mindoro.
It is one best dive spots in the world, attracting many divers all the year round.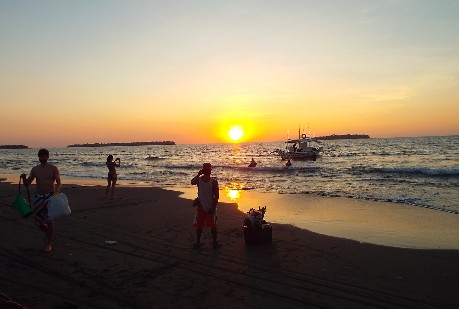 Enjoy unforgettable sunsets on Apo Island
on one of our multi-day tours.
285 species, including tropical aquarium fish, snappers and the crevice-dwelling moray
.
There are 19 dive spots around Apo Reef, enough to dive many days, we offer you a choice here. Which dive spots we visit also depends on various factors, such as weather, high tide, low tide and of course on the training of the divers. Not everyone is allowed to dive everywhere.
Ego Wall (depth 5-40m):
At the North West corner of Apo Island, you'll find this impressive dive site, watch out for big Pelagics, schools of Midnight snapper and Unicorn fish, even Giant Trevally can be seen in large numbers.
Mabuti Wall (6 – 35m): Mabuti Wall is the perfect place to see Black Tip Reef sharks and Titan Trigger fish. Expect to see large moray eels along the wall. There are some overhangs where you can discover White tip sharks. Some of the common reef fish you can see include Moorish idols, Porcupine fish and the Peacock grouper.
Shark Airport (3-30m):
Here you can see many white tip reef sharks resting on the sand, expect to see a dozen of sharks on a good day. Watch eagle rays in the deep, there are also some nice schools of Blue Stripped snappers on the reef edge, sometimes even mating pairs of cuttlefish.
Aladin (5-40m): Another wall dive at the northern part of the reef surrounding Apo Island. Perfect to experience a unique light ambience at late afternoon dives. Groups of bump head parrotfish visit the shallow part of this site frequently.
Shark Ridge (10-35m);
A spectacular reef based on the outer reef; shallows start at 5m before the wall drops very deep. There are sand channels along the wall with some coral outcroppings covered in gorgonian fans. Look out for the Bridled Angel fish and Long Nose Hawk fish around the fans. There are some beautiful Stag Horn coral gardens which are home to schools of Damsel fish. Many chances to see White Tip sharks along the wall, there are even large schools of Jacks and Tuna off in the sea.
Apo 29 (30-40m):
Apo 29 is for advanced divers only, the top of the reef is at nearly a 30m and is a great nitrox dive. You can expect to see a large school of Barracuda and the shark life can be exciting. Take care of your air and deco time on this advanced dive!