Welcome to Gustav's Place Beach and Diving Resort in Sablayan, Mindoro, Philippines!

Current corona information:
Dear guests, we will inform you here as soon as we have the latest information; we look forward to your visit!
Apo Reef Diving,
adventures, holidays and much more you may experience at the natural Eco Resort
Gustav's Place
in Sablayan on the island of Mindoro in the beautiful Philippines! The resort is under Austrian leadership, enjoy the vacation that you have dreamed of for a lifetime. Recreation, adventure, nature, snorkeling, diving and much more!
The resort is located just off Pandan Coral Island with its sea turtles and is the starting point to the world-famous Apo Reef, one of the best dive sites in the world!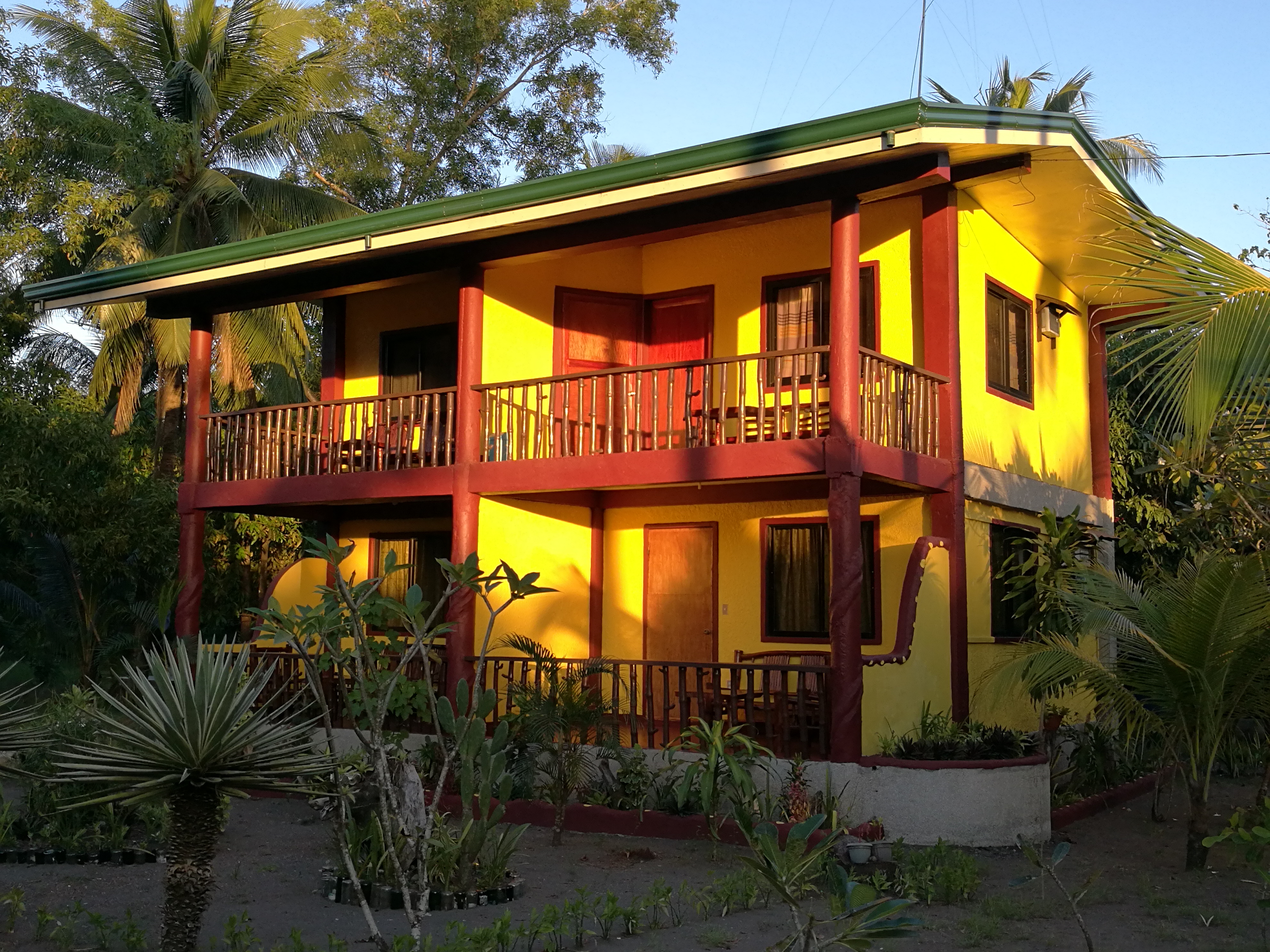 Beach Resort
Our resort is surrounded by beautiful, exotic vegetation, right next to the resort there is a deserted sandy beach with lava sand, kilometres long. All bungalows and rooms are equipped with shower and toilet and are shady under palm trees. Our seafood restaurant is built in a natural, native style, a pool table, karaoke and our fine bar entertain our guests.
From Gustav's Place, there are also many opportunities for adventurous trips and explorations inland as well as many sports activities on land and water, for example diving or snorkelling. The entire tropical paradise of the Philippines can be travelled from Gustav's Place in all directions for any number of days - from island to island - depending on your mood.
Diving
DIVE CENTER, EQUIPMENT, OWN DIVE BOAT, SPECIAL PRICES!
Our own dive centre offers organized dive and snorkel trips of one to several days with our own dive boat. We are specialized in scuba diving trips to the world-famous Apo Reef, the world's second largest reef and one of the ten most interesting reefs in the world. Gustav's Place is also the nearest dive centre to about 2.5 km away dive paradise Pandan coral islands in the South China Sea with its great sea turtles.
DIVING AT GUSTAV'S PLACE BEACH RESORT
Apo Reef atoll is about 40 square kilometres in size and offers countless dive sites with numerous fish and marine life of all kinds. But not only for diving, for snorkelers it is also a paradise and a unique experience. Other special features are our multi-day diving, snorkelling, boat safaris to Palawan, Busuanga or Coron to the Japanese wrecks from the Second World War.
We also offer all scuba diving courses and give the inexperienced access to a magical and colourful underwater world. Complete diving equipment is available in sufficient quantities. Well prepared, equipped and supervised, you are ready for your unique dive:
Note: the resort is currently closed due to the corono crisis. as soon as the situation normalizes, we will be there for you as usual!
Apo Reef
Depth: 5-40 meters
Visibility: 15-50 meters
Currents: Can be strong, somtimes the directions changes during the dive
Getting there: 2-3 hours by boat from Gustavs Place
Apo Reef is the largest coral reef in the Philippines! It spreads over an area of 34 square kilometres, making it the second largest connecting coral reef in the world (the first place being occupied by the Great Barrier Reef of Australia).
The clear blue waters of the channel are teeming with 285 species of colourful marine life, including tropical aquarium fish, snappers and the crevice-dwelling moray.
It is one best dive spots in the world, attracting hordes of divers all the year round. The soft white sand and patches of fine corals, clearly visible through the crystal blue waters, is truly an entrancing sight to behold!
There are
19 divespots
around Apo Reef, enough to dive many days, we offer you a choice here. W
hich divespots we visit also depends on various factors, such as weather, high tide, low tide and of course on the training of the divers. Not everyone is allowed to dive everywhere.
At the North West corner of Apo Island, you'll find this impressive dive site, watch out for big Pelagics, schools of Midnight snapper and Unicorn fish, even Giant Trevally can be seen in large numbers.
Mabuti Wall is the perfect place to see Black Tip Reef sharks and Titan Triggerfish. Expect to see large moray eels along the wall. There are some overhangs where you can discover White tip sharks. Some of the common reef fish you can see include Moorish idols, Porcupine fish and the Peacock grouper.
Here you can see many white tip reef sharks resting on the sand, expect to see a dozen of sharks on a good day. Watch eagle rays in the deep, there are also some nice schools of Blue Stripped snappers on the reef edge, sometimes even mating pairs of cuttlefish.
Another wall dive at the northern part of the reef surrounding Apo Island. Perfect to experience a unique light ambience at late afternoon dives. Groups of bumphead parrotfish visit the shallow part of this site frequently
A spectacular reef based on the outer reef; shallows start at 5m before the wall drops very deep. There are sand channels along the wall with some coral outcroppings covered in gorgonian fans. Look out for the Bridled Angel fish and Long Nose Hawk fish around the fans. There are some beautiful Stag Horn coral gardens which are home to schools of Damsel fish. Many chances to see White Tip sharks along the wall, there are even large schools of Jacks and Tuna off in the sea.
Apo 29 is for advanced divers only, the top of the reef is at nearly a 30m and is a great nitrox dive. You can expect to see a large school of Barracuda and the shark life can be exciting. Take care of your air and deco time on this advanced dive!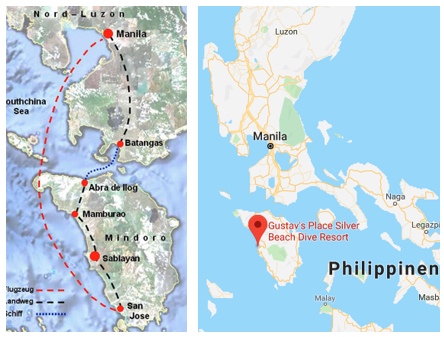 How to get there
By aircraft from Manila to San Jose and by bus to Sablayan
From Manila, you may fly by Cebu Air to San Jose (Island of Mindoro). From there, take the bus
to Sablayan (about 2h) direction Manila (see below) or take a private transfer (about PHP 4.000).
By bus from Manila to Sablayan (about PHP 1.000, about 8-10h)
There are several buses from Manila to the City of San Jose (Mindoro).
On the way, the buses stop in the City of Sablayan.
From the bus station in Sablayan, you take a few minutes Tricycle ride to Gustav's Place.
Or contact us, we'll pick you up for free at the bus station.
Find us
Gustav's Place is located near the city of Sablayan in the province of Occidental Mindoro, Philippines. We are happy to help you with all trips and preparations. Please click the map below to see where the resort is located. You have to cross the river to reach us. Just call us and we'll pick you up or take a tricycle in Sablayan to Gustavs Place.
To enter the Philippines, you need a valid passport for at least 6 months! If you stay up to 30 days you will receive an entry stamp, which is valid for 30 days.
Tipp: It is not always easy to get a taxi at the airport in Manila. Please schedule waiting times of up to 1h. Be sure to negotiate the price for your ride beforehand!
Contact
Gustav's Place Beach & Diving Resort
Sto. Nino Sablayan 5104
Occiental Mindoro - Philippines
Call: 0063 (0) 939 4326131,
939 4326134 or 915 8346058
office(at)gustavs-place.com
Trips, Activities, Adventures
Apo Reef Diving & Snorkeling
Thanks to the efforts of the Philippine government, Apo Island has been protected by the state for about 20 years, has been declared a national park and is steadily gaining in popularity. The closest and therefore ideal starting point for this excursion is our beach resort.
Pandan Island Snorkeling
Just a few minutes boat ride from our Beach Resort you may discover the beautiful Pandan Island. A tropical paradise with corals and protected sea turtels.
It's an unforgatable experience to swim with the turtles together in complete peace.
Half day Tour:
We walk together through a jungle landscape, upstream along the mountains, then we explore the caves
Day trip:
At the foot of a 2000m high mountain, in the middle of a tropical rainforest, we discover the beautiful Lake Libuao. The lake is fully covered with water lilies and other tropical aquatic plants. J
ust the way to the lake is an experience: We pass a unique penal institution in which the occupants take care of themselves.
San Augustin, Jungle Tour

This tour will be individually planned with you together, according to your wishes.
The Tamaraw Buffalo on Mont Iglit
Along a wonderfully beautiful river valley with a huge suspension bridge, in the midst of an immensely impressive jungle landscape, you will reach Camp 1 and Camp 2, then the Buffalo.
The tremendous views of the surrounding mountains and the landscape with views all the way to the South China Sea inspires.
Rent a bike, Guided Bike Tours
Explore the Sablayan area with a rented motorcycle. We are pleased to offer you guided tours.
Rent a Kayak, Guided Kayakin Tours
It is a pleasure to ride the kayak through the waves that roll from the South China Sea to the beautiful sandy beach in front of "Gustav's Place".
1 day Non-Dangerous Kayaking Adventure: With one of the typical local outrigger boats (Bangka), head north from Sablayan along Mindoro's west coast 20 miles north on a turquoise river - the Barahan River - to a picnic spot. There are grills and cold drinks. Then comfortable paddling in the ramified, wild and romantic rivers.
Round trip: Banaue
3 day tour: The Banaue rice terraces are a UNESCO World Heritage Site! On the way, we pass Angeles, see the Mt. Pinatubo and drive over the Dalton pass to Banaue (about 7h), there we stay overnight. Next morning, we drive in the sturdy jeepney to Hapao, on an adventurous road through magnificent landscapes! We continue to the Bangaan Village with its terrific postcard motifs.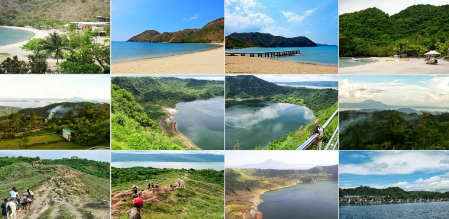 Round trip Luzon
3-Day Tour: Tagatay-Taal Lake Volcano, Hamilo Coast - Pico de Loro, Pagsanjan Waterfall and Whitewater Rafting. Sightseeing Filming Locations "Apocalypse Now".
Round Trip: Mt. Pinatubo and 100 Islands
3-day tour: Via Bacolor (visit to the half-sunken church) we drive to Angeles (possibility of a sightseeing flight) to the base camp Mt. Pinatubo, hike along spectacular volcanic landscapes and natural wonders, drive on 100 Islands, overnight at the hotel directly at the beach, 100 Island Tour: A natural monument, unique on earth!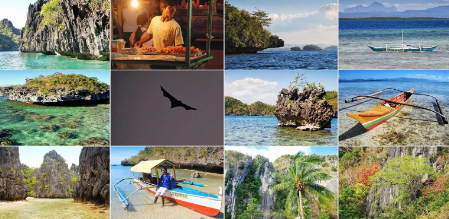 Prices
Prices valid from 01/2020 – 12/2020

Prices indicated are in Philippine Pesos (PHP), Euro (€) and US Dollar ($)
* if you bring your own equipment, PHP 100 discount
** discount on environmental fee for Filipino snorkelers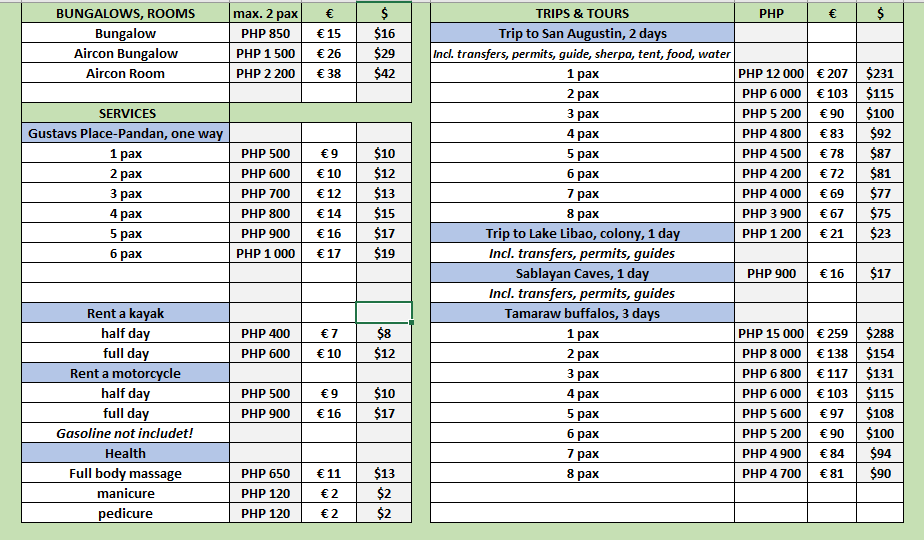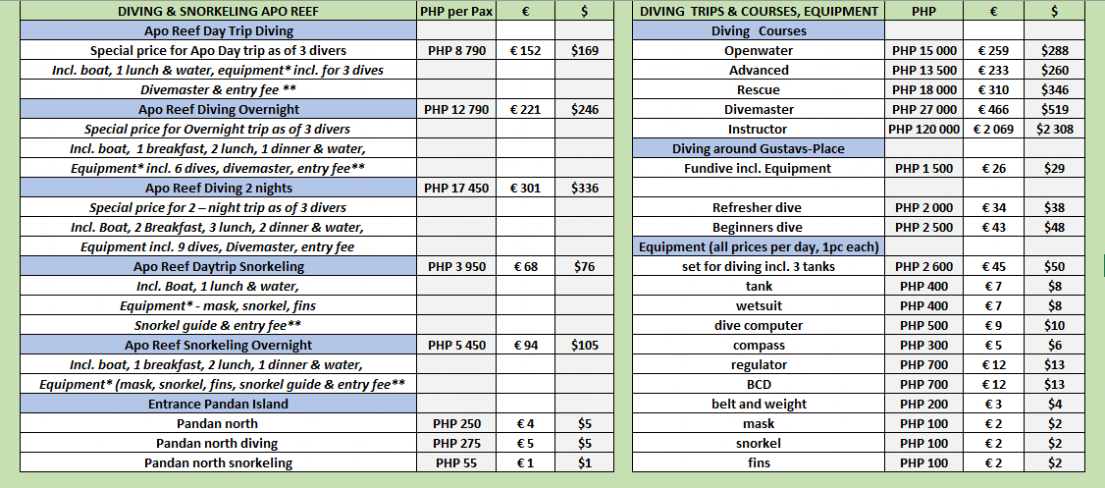 Fast Booking
Welcome to our Fast Booking! If you note your mobile phone number we'll call you back to confirm your Fast Booking at once!
We are looking forward to you!