INFORMATION ABOUT TRAVELLING IN MANILA AND MINDORO OCCIDENTAL
Travelling in the Philippines
BEFORE YOU LEAVE
Some things are difficult or impossible to get in the Philippines, other things you should take with you from home. Impossible to get are, for example, tampons, good sunglasses, shaving cream and after shave and certain medical products. Also take your medicine chest with you including medicine against ear problems, seasickness, stomach troubles, charcoal tablets, disinfectant for minor injuries, bandages, sprays against mosquitoes, creams against insect bites, sun cream and good batteries and a flashlight.
ENTRY & VISA
In advance: The second official language in the Philippines is English, so nearly everybody speaks English quite well, which makes your trip much easier! To enter the Philippines, you need a valid passport for at
least 6 months
. Visit this
official website
to make your entry much easier.
If you stay up to 30 days you will receive an entry stamp and a tourist visa, which is
valid for 30 days
. You can easily extend your visa to 59 days Should you stay longer, you must apply for an extension at local immigration offices. Note: Be sure to note the
validity period of your visa
! Otherwise you could have serious problems when leaving the country!
Regarding money:
Take enough cash with
you and your debit and credit card. Please note that it can be difficult to withdraw money with your EC or credit card, especially in the provinces! It should work fine in Manila, but in the provinces you should definitely take cash (euros or dollars) with you!
Warning: Do not try to change with anybody in the streets, even if they offer better rates than all the money changers, you will almost certainly be cheated!
ARRIVE IN MANILA
Metro Manila has almost 12 million inhabitants, so it is a "Mega City". There is only one airport,
Ninoy Aquino International Airport (NAIA)
with 4 terminals, terminal 4 is the terminal for domestic flights. It's located in the district Pasay City.
It can be very difficult to get a taxi at the airport!
There are also different taxi companies with different prices. A good option is to buy a ticket already in the arrivals hall at the "taxi counter" (after you have picked up your luggage but before you leave the hall). In the arrivals hall, you can also buy a SIM card and change money, (Pay attention the exchange rate! The exchange rate can be extremely different in the Philippines)
Another easy way to drive a taxi in Manila is via the "Grab" App. You need a Grab account, the app on your smartphone and internet access to use it.
STAY IN MANILA
Most travelers spend as little time as possible in Manila, also because there are hardly any sights worth mentioning. However, sometimes it is necessary to stay overnight in Manila. Especially for the return journey, we strongly recommend that you go to Manila at least 1 to 2 days before your return flight home, as there are always delays and cancellations on domestic flights in the Philippines!
If you only have a short stay in Manila you may book a hotel or an AirBnB near the airport. If you want to experience something then book your hotel in
Ermita
district
, a relatively safe area where most tourists stay.
The trip to Ermita by taxi takes at best 30-45 minutes, but it can also take up to 3 hours during the rush hour because of the
really chaotic
traffic in Manila. B
ut you would get first impressions of this mega city on your trip.
Recommendations:
Cherry Blossoms Hotel
***, #550 Jorge Bocobo Extension next to Robinsons Ermita Mall, Ermita, Manila, Philippines, about €35,
Booking site
. (A
lmost always fully booked)!
Bayview Park Hotel Manila
***
,
1118 Roxas Boulevard, corner United Nations Avenue, Ermita, Manila, 1000 Metro Manila, Philippinen, from €55. Look at the booking.com website for "
Bayview Park Hotel Manila".
If you want to book through AirBnB, either look for accommodations near the airport (make sure you know which terminal you're flying from!) or look for accommodations in Ermita, Manila.
Nightlife
in Ermita:
LA Cafe
: 1429 M. H. Del Pilar St, Manila City, Manila, Metro Manila, one of the last survivors of old red-light district Ermita, after 10 pm the place becomes alive with live bands, working girls, story tellers, pick pocketers, tourists, fossils, gamblers and drunkards. Loud music, cheap beer, not everybody's taste but worth a visit if you are new in town.
G-Point: 510 Padre Faura St, Ermita, Manila, Metro Manila, Favourite hangout for Expats and longtime visitors of the Philippine. The beer is cheaper than in LA Cafe and the pace of action is somewhat slower.
How to get zu Gustavs Place by Aircraft:
From
Manila
, you may fly to
San Jose
(Island of Mindoro). Check the website of
Cebu Pacifik Air
for detailed informations about your flight. I
n San Jose you have to go from the airport to the bus station, take a taxi or t
ricycle
.
From there, take the bus (direction Manila) to the City of
Sablayan
(about 2-3h) or take a private transfer (about PHP 4.000).
From the bus station in
Sablayan
, you take a few minutes tricycle ride to
Gustav's Place
. Or contact us, we'll pick you up for free at the bus station.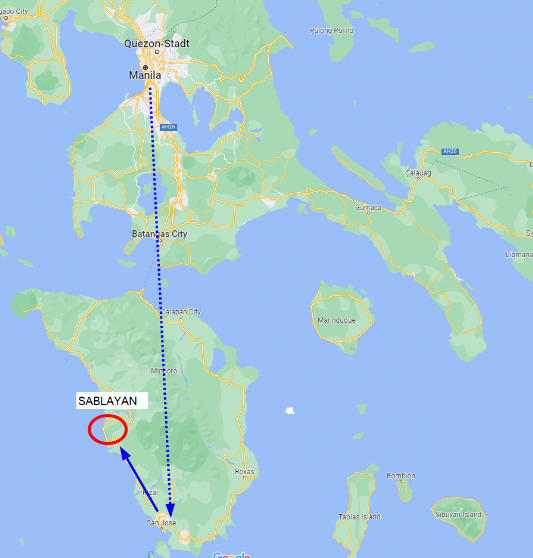 There is a new bus station
PITX
near the airport in Manila (it's a big gray building). the taxi costs about 450 Pesos. At the ticket office on the first floor you'll find TICKET BOOTH 3. Look for buses to
San Jose via Abra de Ilog
: JARIV TRANSPORT: 10am, 2:30pm, 6pm. RORO BUS: 9am, 12:30nn, 4pm, 7pm. Costs are approx. 1400 Pesos.
On the way, the buses stop in the
City of
Sablayan
. T
he bus ride from Manila to Sablayan is an adventure in itself! The route runs from Manila to Batangas on the south coast of Luzon, where you take a ferry to Abra del Ilog and from there continue towards San Jose to Sablayan. The journey takes between 8 and 12 hours (depending on the ferry) and sometimes leads through very curvy terrain! In addition, the drivers are almost always late and drive unusually fast. Take medicine for nausea with you!
From the bus station in
Sablayan
, you take a few minutes Tricycle ride to
Gustav's Place
. Or contact us, we'll pick you up for free at the bus station.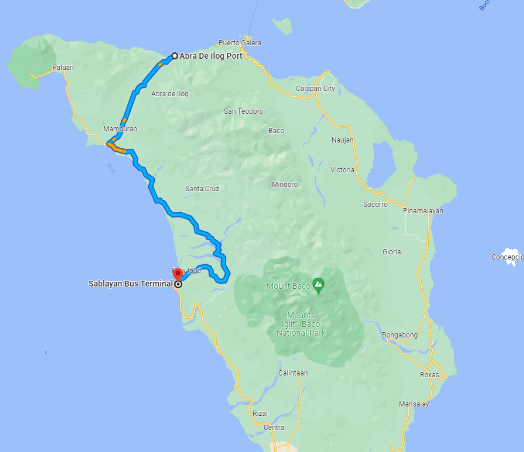 Contact: Mr. Martin Widtmann
+43 664 148 27 23
ADDRESS/RESORT
Occidental
Mindoro - Philippines
Contact: Ms.
Cyra Joy Boqueo Villanueva